ASCU Privacy Policy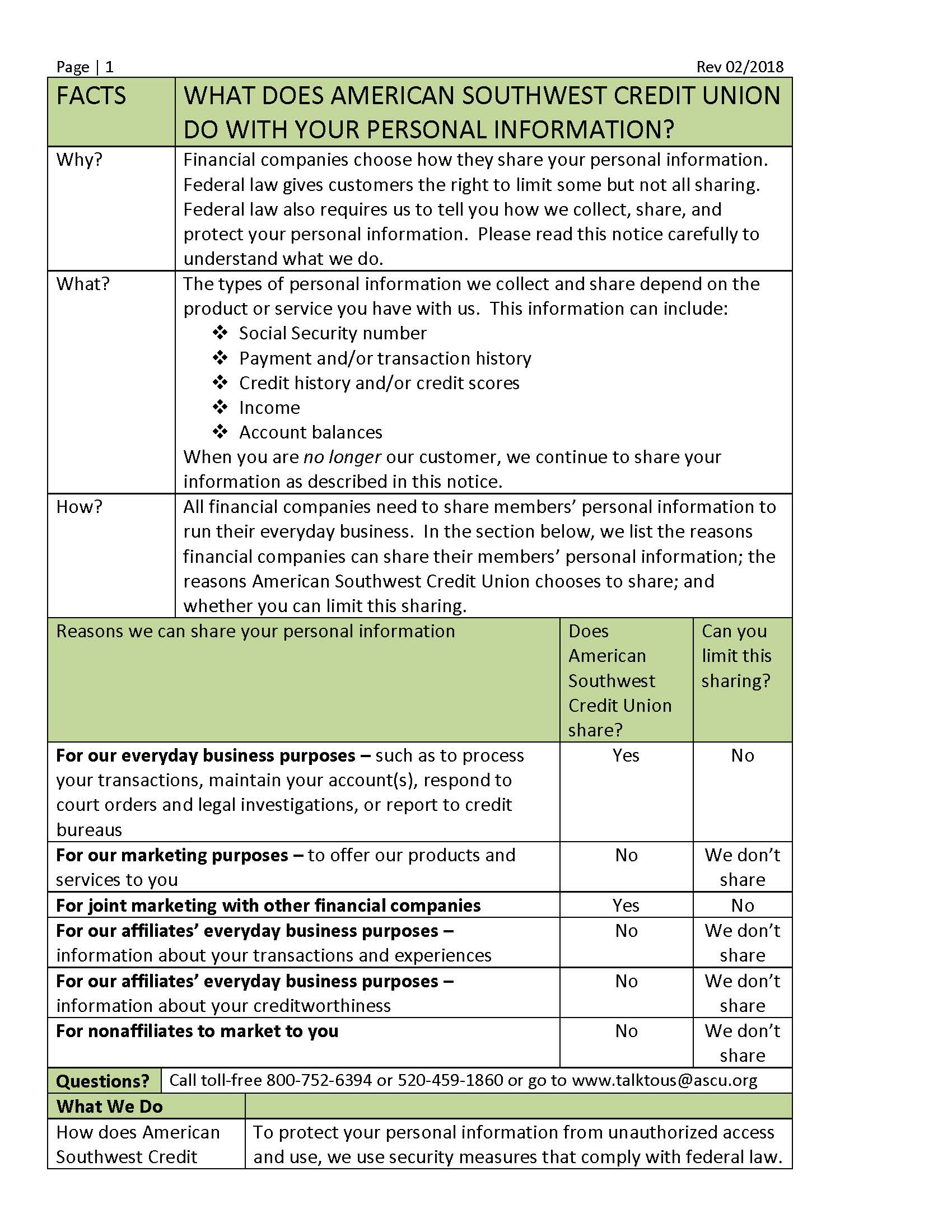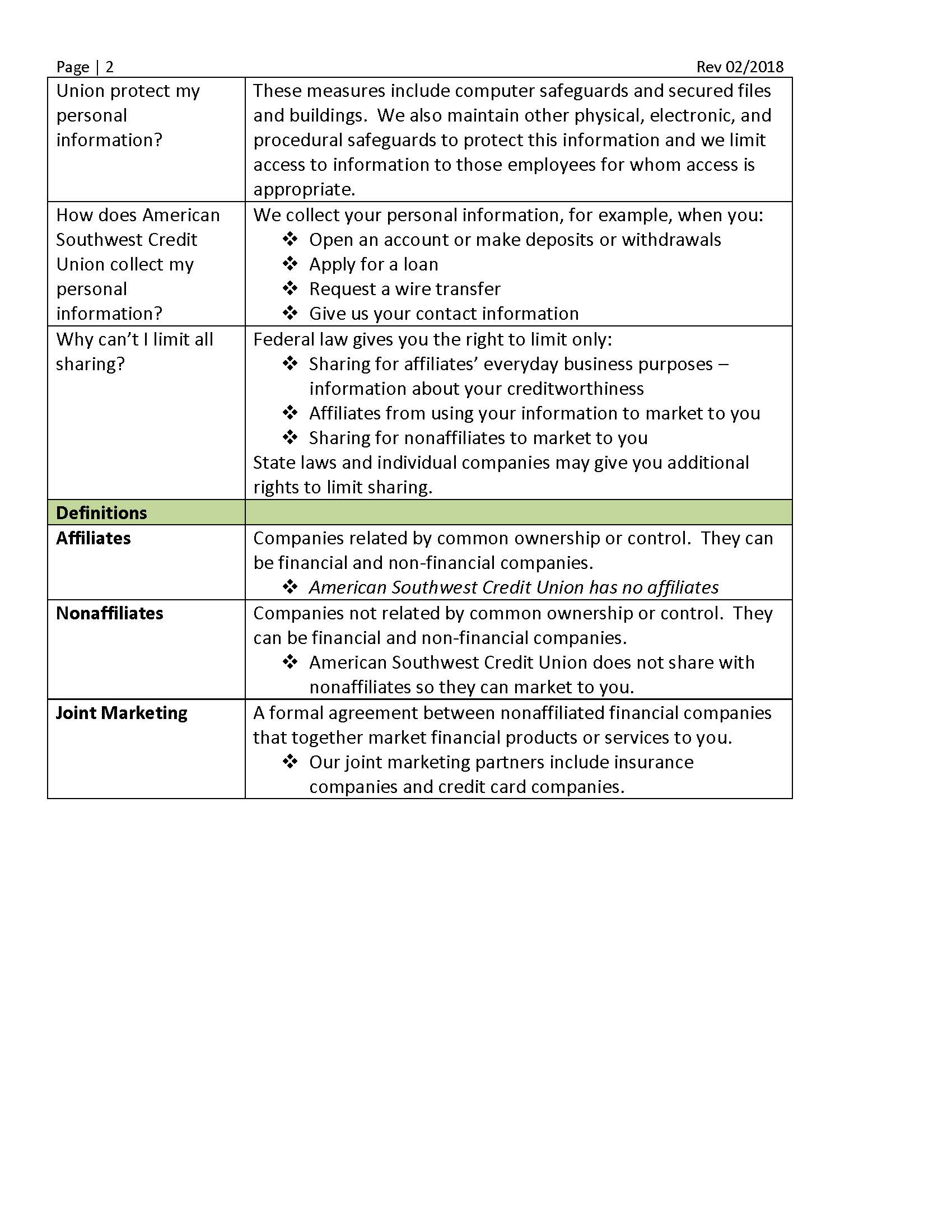 Website Privacy Policy
American Southwest Credit Union is committed to protecting the privacy of our members and other visitors to our website.  American Southwest Credit Union has, therefore, adopted the following privacy policy:
General Information Website Pages: American Southwest Credit Union collects information on domain names and dates and times of website visits.  With this information, we can track website use, measure site traffic, and improve site navigation and information.  This information is never sold, given, or disclosed to third parties not affiliated with American Southwest Credit Union.

Member Information Areas: American Southwest Credit Union collects and stores for staff use only information such as names, addresses, phone numbers and e-mail addresses, user ids and passwords of members who register to access the member-only areas of the website.  We may use this information such in surveys to improve the quality of website information and service to members.  This information is never sold, given, or disclosed to third parties not affiliated with American Southwest Credit Union.

E-mail: American Southwest Credit Union may use personal information contained in e-mail sent by members and non-members to respond to inquiries, comments or suggestions.  Please be advised that e-mail may not be secure against interception by unauthorized individuals.  Therefore, if you wish to communicate sensitive or personal information, you may want to use the US Postal system or similar means.  This information is never sold, given, or disclosed to third parties not affiliated with American Southwest Credit Union.

Links to Other Sites: This site contains links to other Web sites.  American Southwest Credit Union is not responsible for the privacy practices or the content of such Web sites.  We have no control of such Web sites; therefore, you should exercise caution when deciding to disclose your Personal Information.

Updates and Changes to Privacy Policy: American Southwest Credit Union reserves the right, at any time and without notice, to add to, change, update or modify the Privacy Policy, simply by posting such change, update or modification on the Site.  Any such change, update or modification will be effective immediately upon posting on the site.
If you have any questions regarding our privacy policy, please contact us at (520) 459-1860.  Thank you.
Internet/Email Fraud
Recently, there have been multiple e-mail fraud attempts, known as "Phishing", that were initiated via e-mail sent to both the general public and to some credit union members.  These e-mails appear to be from legitimate institutions.  This false e-mail may ask for the recipient to click on a link to verify their information.  If the recipient proceeds to do so, the link directs them to a false website and asks for their personal information such as account number and PIN, along with other personal information.
American Southwest Credit Union does not ask credit union members for such personal information via e-mail.  Anyone who receives an e-mail that purports to be from American Southwest Credit Union and asks for account information by clicking on a link should consider it to be a fraudulent attempt to obtain their personal account data for an illegal purpose and should not follow the instructions in the e-mail.
If you respond to such an e-mail and provide any confidential account information, please notify American Southwest Credit Union immediately of the scheme.  You should also change your account's PIN, and take any additional action recommended by the Credit Union to protect your account.
Additionally, you can file formal complaints concerning suspected fraudulent e-mail, whether from American Southwest Credit Union or another institution, with the Internet Fraud Complaint Center (IFCC) at http://www.IC3.gov.  The IFCC is a partnership between the Federal Bureau of Investigation, and the National White Collar Crime Center.
If you have any questions regarding this alert, please contact us at (520) 459-1860.  Thank you.
NOTICE OF CHANGES IN TEMPORARY NCUA INSURANCE COVERAGE FOR TRANSACTION ACCOUNTS
All funds in a "noninterest-bearing transaction account" are insured in full by the National Credit Union Administration through December 31, 2012. This temporary unlimited coverage is in addition to, and separate from, the coverage of at least $250,000 available to members under the NCUA's general share insurance rules.
The term "noninterest-bearing transaction account" includes a traditional share draft account (or demand deposit account) on which the insured credit union pays no interest or dividend. It does not include any transaction account that may earn interest or dividends, such as a negotiable order of withdrawal ("NOW") account, money-market deposit account, and Interest on Lawyers Trust Account ("IOLTA"), even if share drafts may be drawn on the account.
For more information about temporary NCUA insurance coverage of transaction accounts, visit http://www.ncua.gov.
Endorsement Disclaimer – Pop Up Advertisements
When visiting our website, your personal computer may allow pop-up advertisements. These advertisements were most likely produced by other websites you visited or by third party software installed (intentionally or unintentionally) on your computer. American Southwest Credit Union does not produce pop-up advertisements on our home banking site.